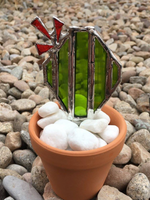 Healthy and Happy
I greatly value the safety and durability of my work, so I I use only lead-free solder for my creations. I do my best to carefully and thoughtfully produce meaningful work that will bring light into the lives of others.
The glass I use is responsibly sourced and custom cut, with few shards to spare. Each flower, star, and bird is unique. I enjoy making work that is personal and that inspires joy in whatever space it is in.
I hope to make stained glass that brings you a smile when you walk into a room.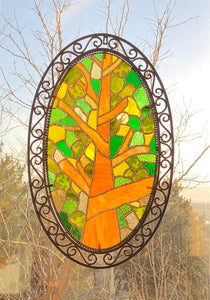 Custom Pieces
If you see something in my inventory that is almost perfect, please don't hesitate to reach out and request something made to order. I am happy to make variations of anything advertised as well as completely new pieces. Just send me an email at njstainedglass@gmail.com and I'll get back to you as soon as possible.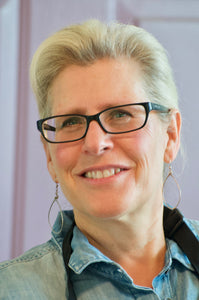 About Me
My name is Nikki Jackson and I have done stained glass design for over 25 years. I found the art form in college and pursued it excitedly until today. I have participated in numerous festivals, boutiques, and shows around Utah and have sold to people all across the U.S. I am married and the mother of five children, the youngest being 20. I love making stained glass and am always excited to try new designs and ideas.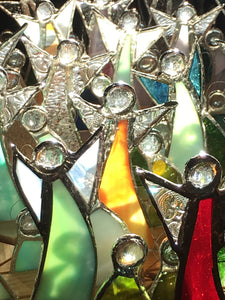 Free Shipping, Safe and Sound
All orders include free shipping to anywhere in the country. Shipping glass can be precarious, but please know that I will do my best to ship things in the safest way possible. I am happy to fix any issues that arise due to shipping or otherwise. Additionally, if you are ever in Utah and would prefer to come to my studio, please contact me via njstainedglass@gmail.com and we can setup something!